14-Year-Old Zane's Supply Drive for RPM!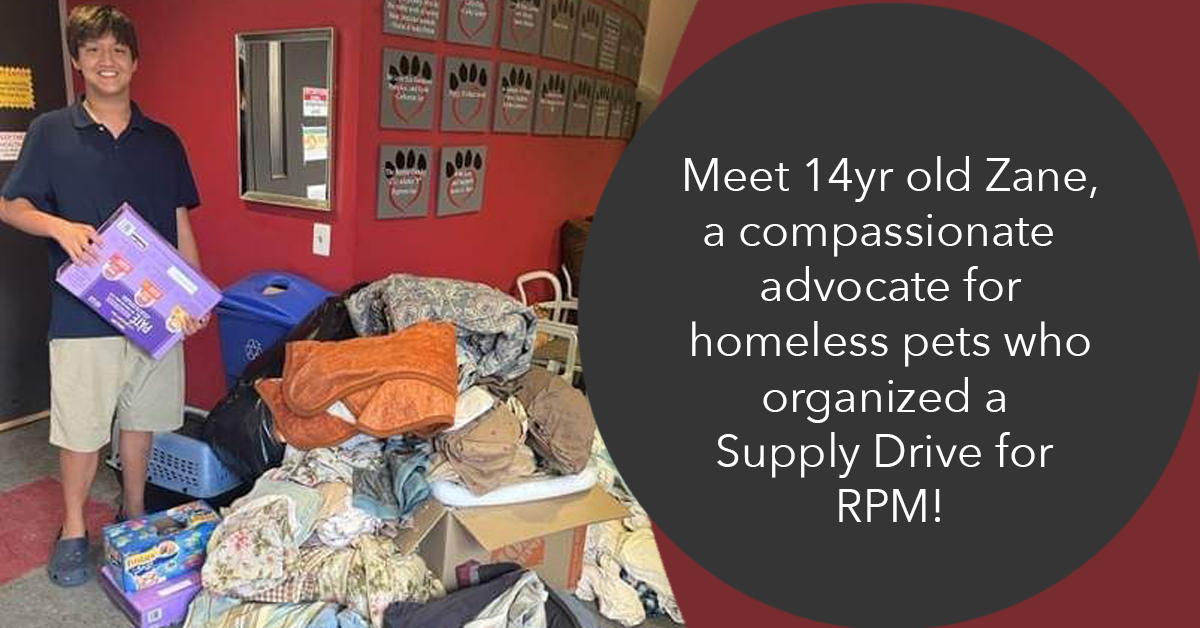 Here at Rescued Pets Movement, we are consistently humbled and inspired by the incredible support we receive from our community. Whether it's our dedicated volunteers, generous donors, or even the youngest animal advocates, every effort is a meaningful step toward a brighter future for homeless pets.
We're thrilled to shine a spotlight on Zane, a remarkable 14-year-old with a heart full of compassion and a passion for making a difference. Zane recently organized a supply drive that gathered much-needed essentials for our rescue operation. This included towels, blankets, cat food, and more – critical items that go a long way in ensuring the well-being of the animals in our care.
At such a young age, Zane's commitment to our mission is truly heartwarming. What makes this even more special is that Zane isn't just a compassionate advocate for homeless pets; he has three rescue pets of his own, named Ardi, Queso, and Cory. Zane's love for animals is evident, and his actions speak volumes about his dedication to their welfare.
We want to send a massive THANK YOU to Zane, his wonderful pets, and his supportive parents for their invaluable assistance. Your generosity is felt throughout our organization, and it's a testament to the positive impact that even one individual can have on the lives of homeless pets.
Zane's initiative is a perfect example of the younger generation getting involved in rescue and contributing to our mission. It's heartening to see young advocates like Zane stepping up and making a meaningful difference in the lives of animals in need. We are grateful to have supporters like him who share our vision of a world where every pet has a loving home.
If Zane's incredible efforts have inspired you and you'd like to help organize a supply drive or contribute in any way, please don't hesitate to reach out to us at joinus@rescuedpetsmovement.org. Together, we can continue to make a positive impact on the lives of homeless pets.
Thank you, Zane, for being a true hero for animals in need!

Want to join the movement?
"We started fostering after our personal pets all passed as we hope to travel extensively. Fostering fills the void when we are home and our goal is to fill them with love before their journey. It's always hard to let go but the posts from other fosters make you know that you are not alone. Plus, there's always another to help. RPM has made such a difference for Houston area animals. I always feel supported and heard."

Rescued Pets Movement
The Jack C. Alexander Building, 2317 w. 34th St., Houston, TX. 77018
Monday 9am-6pm
Tuesday 9am-6pm
Wednesday 9am-6pm
Thursday 9am-6pm
Friday 9am-6pm
Saturday 9am-6pm
Sunday 10am-4pm