Pet Estate Planning for Your Four-Legged Family Members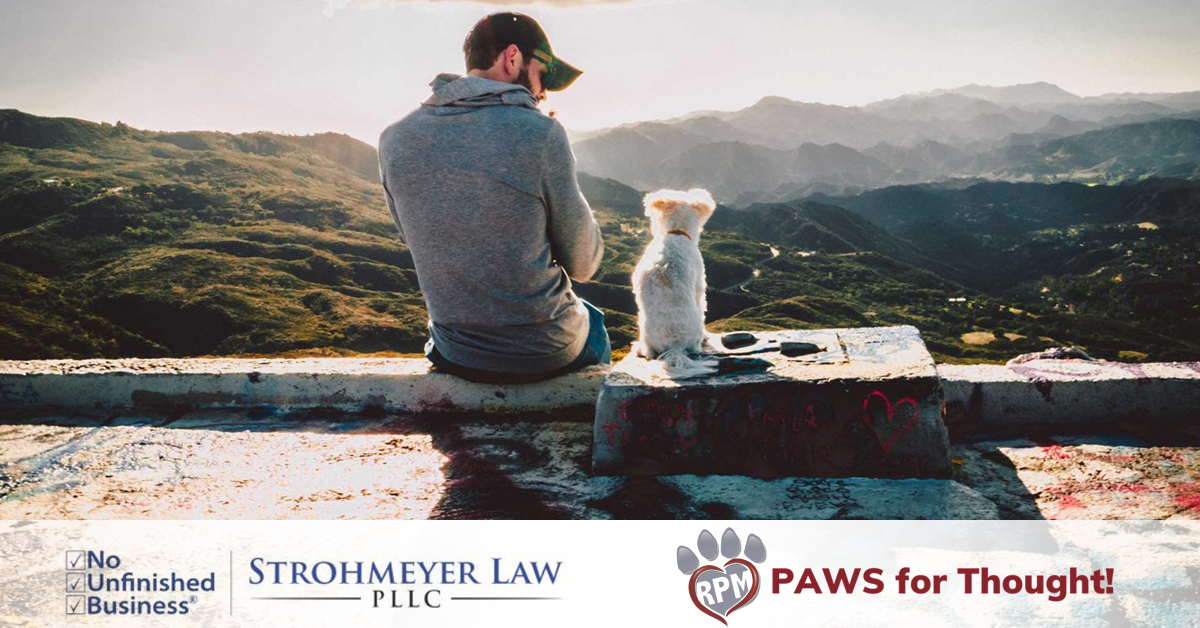 While many people take great care in planning their estates, important family members are typically left out of their planning: the pets.
Pets usually aren't part of the estate plan because planning focuses on transferring property to the right people and minimizing taxes. But this doesn't mean that the pets should be left out of the plan. Because one of the goals of estate planning is ensuring a smooth transition from one situation to another, pet owners should plan for how their pets will transition to a new caretaker, because without this planning, the pet can't tell anyone what is wrong or what to do.
So, what can be done to plan for your pets?
There are two scenarios to plan for:
If you die
If you are incapacitated and can't care for your pet.
If you die, then the most straightforward planning option is to make an outright gift of your pet in your Last Will and Testament to a specific person who will serve as the pet's caretaker. (Although few pet owners consider their pets to be property, the law considers them property that can be distributed as part of a Last Will and Testament.) In addition to transferring the pets, you'll also want to give all necessary paraphernalia, such as food, beds, and toys, so that the pet's caretaker has them. Additionally, consider making a specific cash gift to the caretaker to remove the financial burden of caring for your pet from the caretaker. This cash gift will not only offset the costs of food and grooming now, but also future medical bills for the pet's care. But while making direct gifts is the easiest way to care for your pet, the new caretaker has no legal obligation to care for your pet.
If you're unsure that an outright gift to a caretaker will result in appropriate care for your pet, you can use a pet trust to create the legal obligation on the trustee of the trust to care for your pet. Pet trusts can be created in two ways: a statutory pet trust created under Texas Property Code § 112.037, or a custom drafted trust. A pet trust can be created during your lifetime (known as an "inter vivos" trust) or under the terms of a Last Will and Testament (known as a "testamentary" trust). Creating either type of pet trust is more complicated than making an outright gift to the caretaker, and will incur more costs, including drafting the agreement and paying for the trust's expenses. However, the expense of creating a pet trust will give you peace of mind by ensuring that your pet is appropriately cared for.
The terms of a statutory pet trust allow an owner to create a trust for the benefit of an animal alive during the owner's lifetime. A statutory pet trust exists during the lifetime of the pet, and provides for the distribution of remaining property after the pet's death. Any remaining property held at the pet's death can pass to either a beneficiary under your Will or to your heirs if you created the trust during your life but die without a Will. Although a statutory pet trust limits your options when planning for your pet, you can ensure that someone is responsible for your pet.
Alternatively, you can have a pet trust agreement custom-drafted for your pet. Unlike a statutory pet trust, a customized pet trust can continue beyond the life of an individual animal (e.g., for the kittens of your current cat). If the trust is an inter vivos trust, it will exist before your death, ensuring that there won't be a delay in caring for your pet on your death. But creating an inter vivos trust requires incurring not only the cost of drafting the agreement and funding the trust now, but also all of the administrative costs from now until the trust's termination.
Instead of creating an inter vivos trust, you can create a testamentary pet trust, meaning that the trust will not exist until after your Will has been admitted to probate. This minimizes the costs associated with funding and administering the trust during your lifetime. While you will save on trust administration costs during your life, you must have enough assets in your estate when you die to fund the trust. If you don't, then you will be creating a trust with no assets, and could jeopardize the entire trust. Another issue to consider with a testamentary trust is that it can take several months for a Will to be admitted to probate, creating a gap from the time of your death until the time that the trust is created. Will your designated caregiver be able to care for your pets during that time without any financial support?
Another option for long-term planning is have your pet cared for by an institution such as the Stevenson Companion Animal Life-Care Center. The Stevenson Center was created by the Texas A&M College of Veterinary Medicine to care for orphaned pets. The Stevenson Center accepts almost all pets, from cats and dogs, to horses and llamas, so you can be sure there will be a caretaker willing to care for your most exotic pets. Because they provide a wide range of services and lifelong care for your pets, they do require a significant endowment to ensure that they can properly care for your pets.
In addition to planning for your pets after your death, you also need to plan for your pets if you are incapacitated (e.g., if you are in a coma). If something happens to you and you are unable to care for your pets, their needs must still be met. So, you will need to update your other planning documents, such as your durable power of attorney, to include powers for dealing with your pets. For example, your agent under your power of attorney should have the power to spend your money to ensure the care and treatment of your pets.
So, what can you do right now to ensure a smooth transition for your pets?
First, you should figure out who will be your pet's caretaker. While it is important to know who is willing to take care of your pet, it's important to let your pet's potential caregivers know now that you'd like them to be responsible for your pet. This will speed any transition, and allows you to identify any potential candidates who are not interested. You don't need to have long formal interviews with people; a short conversation should be enough. You may consider having a few people named in case one of them is unwilling or unable to serve as your pet's caregiver.
Additionally, you should put together a notebook with all the important information about your pets so that their caregivers will know how to care for them to smooth the transition. Remember that your pet can't talk, so the caregiver may not know that your pet needs twice daily heart medication. Beyond medication information, you should include information about their diet and feeding times, any favorite activities, and the contact information for your veterinarian, who will know more about your pet than anyone other than you.
Estate planning focuses on smoothing the transition for the humans left behind. But because our pets are family members, pet owners need to plan for the transition of their pets to a new caretaker. While a pet will notice an owner's absence, they shouldn't have to deal with the burden of training a new owner.
Special thanks to Scott Driever, DVM for his contributions to this article.
This article was originally posted on our sponsor website at Strohmeyer Law, and was reposted here with permission.

Want to join the movement?
"We started fostering after our personal pets all passed as we hope to travel extensively. Fostering fills the void when we are home and our goal is to fill them with love before their journey. It's always hard to let go but the posts from other fosters make you know that you are not alone. Plus, there's always another to help. RPM has made such a difference for Houston area animals. I always feel supported and heard."

Rescued Pets Movement
The Jack C. Alexander Building, 2317 w. 34th St., Houston, TX. 77018
Monday 9am-6pm
Tuesday 9am-6pm
Wednesday 9am-6pm
Thursday 9am-6pm
Friday 9am-6pm
Saturday 9am-6pm
Sunday 10am-4pm